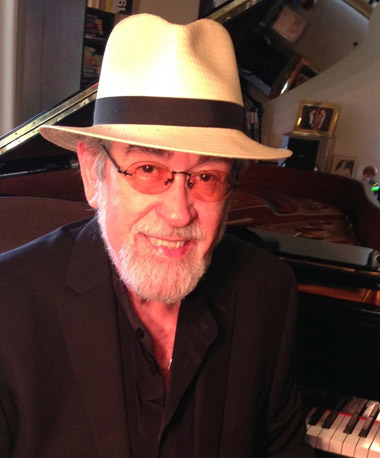 HIS MUSIC IS SOME OF THE MOST FAMILIAR TO THE EARS OF BABY BOOMERS, AND WE DON'T EVEN REALIZE IT. ROGER KELLAWAY, ONE OF THE UNHERALDED GIANTS OF JAZZ PIANO, REFLECTS HIS MUSICAL FLEXIBILITY BY MEANS OF HIS LATEST THREE ALBUMS, TRIBUTES TO OSCAR PETERSON, BOBBY DARIN AND DUKE ELLINGTON. HE'S BEEN A SIDEMAN TO ARTISTS RANGING FROM CLARK TERRY TO BEN WEBSTER AND EDDIE DANIELS, KEEPING ONE FOOT ON THE PEDAL OF TRADITION, WITH THE OTHER TAPPING AND LEANING INTO THE FUTURE. NO MATTER WHAT THE MUSICAL ENVIRONMENT, KELLAAY SERVES AS A MUSICAL COMPASS, KEEPING THE MUSIC POINTED IN THE RIGHT DIRECTION.WE RECENTLY CAUGHT UP WITH MR. KELLAWAY FOLLOWING A SUCCESSFUL DUET PERFORMANCE WITH EDDIE DANIELS, IN WHICH ROGER TOOK US INTO HIS MUSICAL BACKGROUND, ONE WHICH NEEDS TO BE APPRECIATED IN THIS DAY OF MINDLESS CACOPHONIC NOTE PLAYING.
WHAT FIRST GOT YOU INTERESTED IN PLAYING JAZZ?
The piano was my first instrument. When I went into Jr. High School to audition for the orchestra there were eight piano players! Vinny Morado was the name of the director, and he pointed to up to the bass section and said "How would you like to play one of those?" I said "OK," and that's how I started playing bass. The guy's name was Tenny Peck. Because I was studying piano I could read treble and bass clefs, so I just watched where he put his hands. I taught myself how to read, and then four years later I played fourth bass with the Massachusetts All State Symphony.
WAS IT YOUR VISION TO BE IN CLASSICAL MUSIC, OR TO VEER INTO JAZZ EVENTUALLY?
I don't think it was my vision; it's just what happened. I started studying and continued until I was 18. But, at around 12 I started crossing over into some George Shearing sheet music. "I Remember April" was what I remember. I started using "Combo-Orks" books and by the time I was 15 I did my first professional job. I played an hour for five dollars.
DIDN'T YOU PLAY BASS FOR JIMMY MCPARTLAND?
Yes. I played bass for him. Harvey Leon was the drummer, but he wasn't that great of a drummer. His job was to make sure that Jimmy McPartland made it through the night.
WHEN DID YOU MAKE THE COMMITMENT TO BE TOTALLY A JAZZ MUSICIAN?
When I was twelve I knew that it was going to be music. It was from twelve on that I became more interested in playing jazz. I started playing dances and using the Combo-Ork books which were like the original lead sheets for kids of that age. And, playing in bands that were essentially jazz oriented.
YOU WERE IN THE CLARK TERRY-BOB BROOKMEYER BAND. WHAT ARE YOUR THOUGHTS OF THAT EXPERIENCE IN RETROSPECT?
That was 2 ½ years of my life that was so important that it's unbelievable.  The whole aspect of Clark being straight-ahead and Brookmeyer being unpredictable was at that point, with my years and years of interest in 20th Century classical music able to lead  me in all kinds of directions.  That band essentially began the underpinning of how I play today.  This is because at the Half Note the piano faced the wall. You never saw anybody on the bandstand; you just listened. You were never caught up in any visual distractions. I loved that; it was around 1962-64. It was a very important point in my life. I think Dave Bailey got me that gig.
When I went to New York in 1960, that's when I switched over from bass to piano. Although, the very first night I was in New York I sat in on bass with Jimmy Giuffre and Jim Hall. Jimmy was telling me that he was interested in forming a group of composers , and I for one reason or another couldn't really commit to doing it. But, I've always wondered, because his next group was with Steve Swallow and Paul Bley. I've always wondered what kind of turn that would have made in my life.
TENOR PLAYERS LOVE PLAYING WITH YOU AS WELL.
I've played with a few. I loved playing with Ben Webster. I loved playing with all of the old guys. Buddy Tate, Illinois Jacquet, Flip Phillips, and Zoot Sims of course…I actually played a tune with Coleman Hawkins at UCLA when I was a bit younger. Playing with Ben is like playing with Clark Terry and all the older guys. You learn something about simplicity and how to edit a line when you play with those people.
Think about this; the older the player that you play with, they grew up learning how to play on 78 (rpm records)which were only three minutes long, so you could never really play more than one chorus. So, that limitation gives you a tremendous ability to edit as you are going along and allow one chorus to be enough.
I also played a whole summer with trumpeter Bobby Hackett. Bobby Hackett had a little tiny chord book, and there wasn't anything that went over an F6. He didn't even have an F7 in there. So when it said F6, those were the four notes that he played. And yet he made so much music out of it.
I also played with Pee Wee Russell that summer. I'd love to have that time back! When I was a teenager I did a lot of playing bass in a Dixieland band. Guys that were twice my age. I played with Eddie Condon at Eddie Condon's club. I played piano there. Pee Wee Russell was one of the older gang, so you learn the lessons from the older guys from the editing standpoint. It's just that  Pee Wee Russell had such a unique of soloing. I suppose you could relate him to a concept of (Theolonious) Monk as a clarinet player as opposed to an Edmond Hall.
YOUR LAST THREE ALBUMS HAVE BEEN TRIBUTE ALBUMS. THE BOBBY DARIN ONE WAS VERY INTRIGUING. TELL US ABOUT YOUR TIME WITH HIM.
I loved working with him. I learned my stage timing from (comedian) Jack E. Leonard, with whom I worked with before, and from Bobby. Bobby was unbelievable. He hadn't gotten (into the country and folk music) yet. Although, within that period came "If I Were a Carpenter." I did play piano on that.
I basically took dictation from him. He knew so much about what he wanted in arrangements, and what tunes and stuff. Then, at the end of a year (1967) he gave me (the album) Dr. Doolittle, and he said "OK, we're recording in three weeks; these are the songs, let's get the keys and this is your band." He had already picked out the instrumentation that he wanted. I've never worked for anyone else that ever did that (laughs). Thirty five pieces; three tracks, because the fourth track was for vocals and you couldn't overdub.
IN RETROSPECT, DO YOU THINK THERE'S A BIG MISCONCEPTION ABOUT HIM TODAY? HE'S RARELY CONSIDERED ONE OF THE TOP TIERED ALL TIME VOCALISTS.
Well, that shouldn't be the case. He was an absolute master. I loved working with him. I remember once, when I was just starting with him, "Whenever I turn around, I want to see you looking at me." I said, "Mr. Darin, how do I do that and conduct the band at the same time?" He said "That's your problem."
YOU WERE ON ONE OF ART PEPPER'S LAST TOURS. HOW DID THAT GIG COME ABOUT?
I think I was his  last pianist. That was with Carl Burnett on drums and David Williams on bass. I don't remember how I got that band, but that was a really interesting time. Art was on full methadone. He wouldn't take any less. The bus rides were really a trip. His wife Laurie would drive the bus. You never knew where Art was going to go. You could be on stage and he'd start picking up the microphone and talk about jail! And if any one of his buddies came in, he'd really talk about the cell block and that.
But you know what? The thing that really surprised me was the track that we did with him on clarinet. I loved that because I didn't know that he played clarinet. It's a mistake to think that people that play sax always play clarinet because any clarinet player will tell you how much more difficult it is to play the clarinet. I don't remember the name of the tune, but I loved it.
And I loved his playing. I thought that as we played together "Ya know, I've never really paid much attention to this guy." And he was an extraordinary improviser. Interesting stuff. I always thought that he was in control.
THEN, THE SONG THAT EVERYONE HAS HEARD YOU PLAY. THE THEME FOR "ALL IN THE FAMILY."
I got the All in the Family gig through Dave Grusin. He was scheduled to do it, but he had a commitment and he couldn't do it, and so he recommended me. So, they gave me the script, and as I usually did in those days, I finished the script and I wrote a theme. I didn't know that they hired (Charles) Strouse and (Lee) Adams to do the theme, so I went in and played my theme for Norman  Lear, John Rich and Carroll O'Connor and I knew within 30 seconds that they liked it.
The first six episodes of the show had both themes on the end. My wife Jorjana said "Why don't you go to Norman and tell him we don't need that other song?"  So I did, and he agreed and so it became the first show ever to have two themes. There was only one other show, and that was the spinoff with Archie Bunker's Bar or something.
But the other thing that I did, not realizing that I was damaging myself royalty-wise, was when Norman said, "You know, I'm thinking of having no music inside the show; just doing it theatrically. I happened to think that it was a great idea. So, that was the first TV show to have no music within the show itself, so that cut my royalties down considerably. But we did all right (laughs)!
IN TODAY'S JAZZ SCENE, YOU ARE ONE OF THE FEW PIANISTS THAT STAY TRIED AND TRUE TO THE STRIDE STYLE OF PLAYING.
One of the reasons is because I grew up with so much Dixieland, and I love that style, even though I do not consider myself a stride player. If you put me up against Dick Hyman, for instance, or Judy Carmichael, these people play real authentic stride. But, I was a big Fats Waller fan as a kid. And, one of the reasons that I attempt to play that style is because it's part of playing the piano.
Oscar Peterson was a ferocious stride player when he felt like playing it. The "Blues Etude" is the one where he plays stride and boogie at a ferocious tempo. You can't believe what you're hearing.
YOUR TRIBUTE TO PETERSON AS WELL AS YOUR ALBUM DEDICATED TO DUKE WITH EDDIE DANIELS HAS YOU KEEPING THE STRIDE ALIVE
Everything I play goes back to the Dixieland years. When I played with those players they were all twice my age. So, it's not like the younger generations who are asking the same questions, but they only get to hang out with themselves. So how do they get the answers?
And I'm very comfortable playing with Eddie Daniels. I did an album that nobody really knows about, called British American Blue for a German label called Beyond the Lines. I did it with Tony Coe, who was a British tenor sax/clarinet player. Aside from the blues, which is the last track, everything is free form. Nobody really knows that I play that way, with no structure at all.
AND YOUR OWN MUSIC TENDS TOWARDS A CHAMBER FEEL
I like the aspect of piano-guitar-bass, because the (Oscar Peterson) trio with Herb Ellis was always my favorite. Although the trio with Barney Kessel was nice too.
YOU ALSO RECORDED WITH WES MONTGOMERY
I did the Bumpin' album with Wes Montgomery. Because Wes didn't read music we rehearsed for several days with just the quartet. Then we went in and recorded with the quartet, and Don Sebesky overdubbed the strings and harp. The song "Musty" is the only one with a piano solo, and I'm really proud of that solo. I know we had a good time together, because the energy is there and we're all in the pocket.
SPEAKING OF POCKETS, YOU RECENTLY  AT VIBRATO WITH A DIFFERENT TYPE OF BAND ALTOGETHER, THE DJANGO FESTIVAL ALL STARS
I love these guys, and I hired them to do my last birthday party. What was interesting about that was that it was my gig, so I got to play virtually every tune. At the Vibrato it was different because I'm just sitting in with them and playing just a couple of tunes a set. They are a lot of fun. Talk about Dixieland or swing chops, that's where (gypsy jazz) fits. Since I know how to play those styles and I love swing, it's easy for me for me to go there.
It doesn't make sense if you're playing with them and you decide to do an avant garde solo, even if you stay within the swing style. If you decide to go polyphonic or any of that kind of stuff, it won't work. What has excited me all of my life is to play in all of the different situations and to find the common denominator of how to make it all work.
SO, WHEN PEOPLE THINK ABOUT YOU , WHAT DO YOU WANT YOUR LEGACY TO BE?
That it was a  nice ride!
ARE THERE ANY OTHER ARTISTS THAT YOU KNOW OF WHO HAVE TAKEN THE BATON?
Bill Charlap comes to mind. I really enjoyed Two Pianos at Birdland. Tamir Hendleman also, but I'm not on the scene very much, and I don't really listen to piano players. Except for since I was 20 years old the most piano listening I've done was for the Oscar Peterson tribute. I listened to him for about a year and a half. I hadn't done anything like that in 25-30 years. When you hear The Stratford Festival recording, which was Herb Ellis' favorite recording, it's just unbelievable what they do with something like "The Lady is A Tramp."I use as my warm up to get ready for a gig an Oscar Peterson 1957 track with Stan Getz called "I Want to Be Happy."
YOU MAKE A LOT OF REFERENCES TO SWING AND DIXIELAND, YET IN MOST JAZZ JOURNALS, THIS TYPE OF MUSIC IS NEVER TAKEN SERIOUSLY. IT IS USUALLY DEEMED "NOSTALGIA." WHY DO YOU THINK THIS IS SO?
Society has moved beyond it. There are still older generations that are interested in that music, or interested in that period, but we are so inundated with so many other styles of music, particularly "pop" music everywhere you go. Every store you shop in; every restaurant that you eat in. So, Dixieland music and its aspects.
But I tell you, I just finished playing in New York, Kitano's, and I played quite a few very simple songs. People would go crazy; they loved it.
DO YOU THINK THEY LIKED IT FOR IT'S OWN SAKE, OR FOR NOSTALGIA'S SAKE
I'd say both. The younger people who liked it don't like it because of nostalgia. They don't even know what that is. There's a certain energy that I can give off in playing the music because I delight in the simplicity of the music. They get it.
IN CLASSICAL MUSIC, PEOPLE GET AWARDS FOR INTERPRETING MOZART CORRECTLY, BUT IF SOMEONE IN JAZZ SOUNDS LIKE LESTER YOUNG, HE'S CONSIDERED "DATED" BY THE CRITICS OR MODERN MUSICIANS.
Well, shame on them! Most of the young players now want to sound like Coltrane, because that's what they know. That's what they're fed. They're not fed Lester Young, Coleman Hawkins or Eddie "Lockjaw" Davis.
I started off, after playing Oscar Peterson and Horace Silver, into a more "modern" direction. But, at the same time, I was playing bass with Dixieland bands, so I was caught in the middle. It wasn't until much later that I realized all of the influence I had from all of my earlier, simpler styles of music.
And then I came across an interview with Dizzy Gillespie who said "It's much more fun to abstract a standard than it is to abstract a bebop song." That's a very interesting comment coming from him. The truth is that the bebop songs are already abstracted in a certain way, and the older songs are set in a kind of form that you can play with and go all over the place.
WHETHER HE TEAMS UP WITH ART PEPPER, BUDDY TATE, BEN WEBSTER, BOBBY DARIN OR EDDIE DANIELS, PIANIST ROGER KELLAWAY'S ALLEGIANCE TO SWING ALWAYS KEEPS HIS JAZZ 'ALL IN THE FAMILY'
HE'S PLAYING UP IN SANTA BARBARA AT THE LOBERO NOVEMBER 10 WITH DORADO SCHMIDT'S  DJANGO REINHARDT ALL STARS, BUT HE'S ALWAYS SOMEWHERE WHERE IT'S SWINGING IN LA AS WELL. CHECK OUT HIS  LATEST TRIO OF "TRIBUTE" ALBUMS AS WELL.