A  PRESIDENTIAL MONTH
Match the pictures of the artists below with their upcoming shows on the left
Usually, we take February to make a bid deal about Valentine's Day and list a bunch of romantic songs and singers. This time around, I thought we'd focus on the other major holiday, which is President's Day. Back in the day, there was no real celebration of "President's Day." In February we had holidays for
the birthdays of Abe Lincoln (Feb 12) and George Washington (Feb 22). Anyone remember the movie Holiday Inn when Bing sang songs about Honest George and Abe who gave the slaves freedom?
Then, back in 1983, Reagan signed a law making Martin Luther King Day a national holiday. In so doing he traded the two presidential holidays and combined them into one holiday for all the Presidents. I'm not exactly one to celebrate the presidency of James Buchanan or Herbert Hoover, but that's politics for you!
There's basically two jobs of the President to perform as he's sworn into his office. One is to be commander and chief of our armed forces and the other is to protect the Constitution. Yes, we've had Presidents who've done disastrous things with both of these (we won't get into that right now, thank you), but in essence that is what America's CEO is supposed to accomplish.
When you think about it, the whole idea of a Presidency is amazing. The fact that Washington willfully ended his term and John Adams peacefully replaced
him in an election
shows that a republic democracy can work. But, as Adams once said, "Democracy only works for a moral people." Take away the morality, and the "democracy" becomes the tyranny of 51% of the populace.
Now, what does this have to do with jazz? I'm glad you asked. The first Presidency was a perfect display of a leader serving his people. He did not flaunt his power; he used it to sacrifice for his nation. Washington and others that followed (for awhile, at least) made no financial profit in public office. Unlike today, they considered themselves as actual servants to make
the country great. Yes, each President was human and had faults and blind spots. Welcome to the human race! But, most of them tried to do what was best for the country.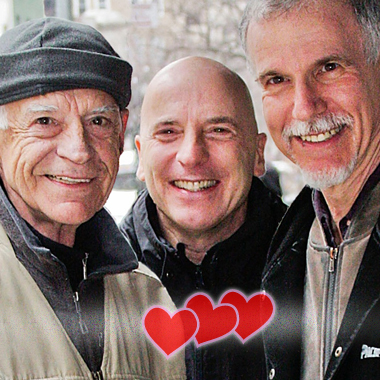 In the case of Lincoln, he was almost like America's Messiah, giving his life in order to a) preserve the Union and b) giving Emancipation to the slaves (OK, so it was to only
the Confederate states until the war was over). He truly sacrificed his life so people could live in freedom. What an example!
In music, the best musicians do not  play to exalt themselves, but to literally "serve the music." I must here this phrase every time I interview someone like Larry Carlton, Peter Erskine or Lee Ritenour. As the Bible says, "We do not preach ourselves, but Jesus Christ as Lord and consider ourselves  your servants for His sake."
What's true in the Bible and the Constitution is also true in music. Nothing is more depressing as a jazz fan than
to see a musician get into some self absorbed and self exalting solo. Like my teacher used to say, "It's like a gorgeous woman who can't stop talking about how beautiful she is."
A true artist is a servant to the song. A true disciple is a servant to his Master. You cannot serve two masters. You either believe God, or you play God. Same in music. Which is the  master in your life as you play?
The other role of the President, protecting and upholding the Constitution, is also applicable to musicians. Just as it is written "we hold these truths to be self evident" for
people's rights, the same can hold for the laws of jazz. Jazz, to be jazz, must have a) swing b) syncopation c) improvisation. Yet, just like our country's motto is "E Pluribus Unum" meaning "out of the many, one," So as in jazz, out of many
different styles and cultures comes one type of music.
What would jazz be like without its original "Latin Tinge"? Jazz has been able to absorb blues, boogie woogie, baroque (in bebop), gospel, soul, electronics and rock, yet still retain its essence and even improve in the process. What would jazz be like without Brazilian samba and sounds? I shudder to think, as I believe
this is the sound that saved jazz in the 60s from self-indulgent oblivion.
So, our country can take in all types of people, but it must still retain its essence of a) In God We Trust b) E Pluribus Unum , c) Liberty and d) We The People. If we lose these foundations, we lose the country; if we lose the bulwark of jazz, we lose a music. If we lose the canon of our
faith, we lose our souls.
In the "No One Ever Asked My Opinion" section, I've listed jazz artists that have names of Presidents. What greater honor than to have the name of a great leader. As
Alexander the great once told a deserting soldier who was also had the Alexander moniker, "Either change your behavior , or change your name."
Let's live a life as an artist, patriot and pilgrim worthy of the name we've been called.
KEEP WRITING US. HERE ARE SOME RECENT COMMUNICATIONS…
Hi George,
Nice site you have, I've been perusing it. Thanks for helping to keep this music alive!
All the best,
Tony Romano
Dear George-
WOW!!!!!
You are amazing brother. Love your writing!!! You have a true talent there.
Much Love and thank you from the bottom of my heart. All the best!
Sincerely,
This is Neal Weiss of Whaling City Sound.
Just to clarify the issue you raised: the current CD by Phil Woods, "Live at the Deer Head Inn," on the Deer Head label, was recorded in Nov. 2014, a little after ours. I have also been told that the Manchester Craftsmen's Guild intends to issue Phil's final performance at MCG, in early Sept. 2015, when he did a 60th anniversary tribute to Charlie Parker's LP with strings, that included members of the Pittsburgh Symphony. At that performance, Phil surprised everyone, including family, by saying he was retiring. He passed away before the month was over.
I appreciate your understanding of why I placed Phil's spoken tracks at the end. Others have questioned why the intros weren't placed where they belong in the set.
The words were too good to leave out, but as you say, the continuing of the music came first. Also, anyone playing the CD repeatedly might not want to hear the stories that many times.
Respectfully,
Neal Weiss, President
Whaling City Sound
Hey, George!
I love your interview with Mathis ! I worked with him a long tome ago and my concept has always been to sing through the horn. Really great job you did ! Wow,  George heartwarming your words paint pictures like a great solo thank you so , so much !!!
Glenn Zottola
Dear George,
Thank you so very much for your review of Maiden's Voyage-in parallel with this record I've been living and breathing the art world, and composing music inspired by paintings (specifically Wyeth paintings), so it was so apropos and welcome for you to compare my music to paintings. It touched me deeply.
Thank you
Catherine Marie Charlton
Hello George,

I wanted to say thank you so much for the review of my CD – Come Out Swingin'.
Thank you for "getting" the music and thank you for having the openness of heart to not judge a book by it's CD cover smile emoticon.

All the best,
Eugenie Jones
Dear Jazzweekly,
I just became aware of the super great review of my pop's posthoumos CD with Carmell Jones – – -if i send you a photo of my LP/CD/audio equipment collecting hoarder dad's pad, I could show you where we "unearthed" the tapes.
There are more to come – – next one hopefully in late Nov/early Dec.
appreciate the kind words.
all best,
Leslie
(daughter of Forrest)
Hey George,
Nice to meet you at Catalina's and thanks for mentioning my comment regarding Danny Janklow. For the record, Danny blew the doors off the place.
Take care,
Ryan McAnany
Hi George!