AND REACHING THE NEXT GENERATION.
CHECK OUT MY TWO INTERVIEWS:
ONE WITH SNARKY PUPPY
KEYBOARDIST BILL LAURANCE
AND THE OTHER WITH
LEROY DOWNS & FRED SMITH
WHO HAVE BROUGHT JAZZ
 TO THE IPHONE CROWD
Match the artists below with their scheduled shows on the left!
HONOR THY FATHER…
During the month of June, we celebrate Father's Day, which is usually the "forgotten" holiday, as Mother's Day gets all of the press, phone calls, breakfast in bed, cards and
flowers. For Father's day, maybe we'll get a card, but if there's a meal involved, guess who's gonna end up paying for it?!?
Ah, and who would have it any other way?
When you think of Father's Day, what comes to mind is the 5th Commandment "Honor Your Father (and Mother".
Why would God make a big deal about this, and how does it relate to being a better musician and jazz fan?
Well, if you think about it, any society that doesn't revere their parents is ultimately going to self destruct. Someone has to be a guide and authority for the next
generation, and if parents don't do it,
then "society" will, and the general rule then becomes "if it's everyone's job, it's no one's job." If parents (or other familial authorities like great uncles, etc) don't nurture the next generation, a directionless group of people become created. If people don't respect elders, then all respect for any authority gets lost, leading to anarchy of all types. This
is why this commandment concludes with the promise "so that it may go well with you and that you live a long life on earth."
See, we all need someone to guide us along our life paths. If we say "I don't need anyone" we are simply boats being cast adrift with no sail or rudder to steer us on the right path. It is also in the family that the true values of society are passed on
to the succeeding generation. Do you really think the  school system is geared to meet our deepest emotional and material needs? If education were really the answer, then why do all of the schools have locks on their doors and lockers?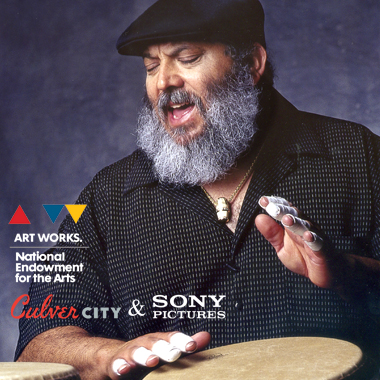 My dad didn't proactively sit me down and teach me about life; he just lived it or warned me about mistakes I might make. "If you keep doing that, you're going to be ready for the gas pipe" was one of his favorite admonitions.
He was the one who also turned me on to Duke Ellington and Coleman Hawkins. He used to say, "When I get to heaven, there are 4 mysteries I can't wait to ask God about.  They include, a) How Jesus could be both God and Man b) The Virgin Birth c) The existence of evil and d) How Duke Ellington's band got its sound. None can be logically explained."
My late dad was a favorite companion to jazz clubs. He loved to reminisce about Philly with the Heath Brothers or Buddy DeFranco. He used to joke "I know how to relate to Christians because I got to church; I know how to relate to atheists because I grew up in Philly."
It's the same with music. We all need someone to "father" us musically, so if you're young find someone older and pick his or her musical brain. Who do they like? Why?
If you're in the older generation, look for someone to oversee and musically mentor. I take college kids to jazz clubs and give them cds of music that they "need to know." They
always appreciate the input, as they'd never know about artists like Hank Mobley or Pat Metheny unless someone who's been around could share it.
Music, and life, is not something you can really learn about in school. It must be
passed down from elders. The entire book of Proverbs in the Bible is essentially a letter from Solomon to his "son." The first few chapters each begin with something like "Son,
do not forget my
teaching." The reason is that if we forget the wisdom of our fathers, be it in
music, society or religion we are doomed to correcting mistakes that could have been avoided.
In my "No One Asked My Opinion, But…" section, I've listed famous father/son (or daughter) combos. In the interview section we have two different ways to reach the next generation for our favorite music. Some things are better taught than caught!
KEEP WRITING US. HERE ARE SOME RECENT COMMUNICATIONS…
George-
Great article. Thanks. Il share with the boys!
Philippe Saisse (Al Di Meola Band)
Hi George
Thank you so much for your kind and insightful review of our "Brand New" CD.  Beautiful writing on your "Honor your Father"  essay.  You are a fortunate man to have grown up under a father with so much wisdom (and such a love of Jazz). I'd never really thought about how the 5th commandment might relate to jazz, but I grew up with a father who loved jazz, and introduced me to the language of Duke Ellington before I had any other language.  We are both blessed indeed.
We look forward to reading more of you columns.  Thanks again for your kind words, and taking the time to listen to our work.
Best Wishes
Anne Walsh/ Tom Zink
Hey George! Thanks so much for the review! Much appreciated…I'll add a few tasty quotes to my website and link your blog as well. Enjoyed reading some of the articles like "fathers of jazz" the other day too.
Hi George,
Nice site you have, I've been perusing it. Thanks for helping to keep this music alive!
All the best,
Tony Romano
Dear George-
WOW!!!!!
You are amazing brother. Love your writing!!! You have a true talent there.
Much Love and thank you from the bottom of my heart. All the best!
Sincerely,
This is Neal Weiss of Whaling City Sound.
Just to clarify the issue you raised: the current CD by Phil Woods, "Live at the Deer Head Inn," on the Deer Head label, was recorded in Nov. 2014, a little after ours. I have also been told that the Manchester Craftsmen's Guild intends to issue Phil's final performance at MCG, in early Sept. 2015, when he did a 60th anniversary tribute to Charlie Parker's LP with strings, that included members of the Pittsburgh Symphony. At that performance, Phil surprised everyone, including family, by saying he was retiring. He passed away before the month was over.
I appreciate your understanding of why I placed Phil's spoken tracks at the end. Others have questioned why the intros weren't placed where they belong in the set.
The words were too good to leave out, but as you say, the continuing of the music came first. Also, anyone playing the CD repeatedly might not want to hear the stories that many times.
Respectfully,
Neal Weiss, President
Whaling City Sound
Hey, George!
I love your interview with Mathis ! I worked with him a long tome ago and my concept has always been to sing through the horn. Really great job you did ! Wow,  George heartwarming your words paint pictures like a great solo thank you so , so much !!!
Glenn Zottola
Dear George,
Thank you so very much for your review of Maiden's Voyage-in parallel with this record I've been living and breathing the art world, and composing music inspired by paintings (specifically Wyeth paintings), so it was so apropos and welcome for you to compare my music to paintings. It touched me deeply.
Thank you
Catherine Marie Charlton
Hello George,

I wanted to say thank you so much for the review of my CD – Come Out Swingin'.
Thank you for "getting" the music and thank you for having the openness of heart to not judge a book by it's CD cover smile emoticon.

All the best,
Eugenie Jones