******
******
Match the artists on this page with the listed shows in the "Heads Up" section!
THE MOST WONDERFUL TIME OF THE YEAR
No matter how much people try to ruin it, Christmas is still the greatest time of the year. Look, King Herod tried his best to ruin the first Christmas by ordering all children 2 and older to be killed. Talking about a party pooper. And as far as stress during the holidays, how would YOU like to be Mary and have to entertain a
bunch of strangers who just travelled over 1000 miles  on their donkeys to come over and visit? Talking about fish and guests stinking after 3 days!!!
Yet, through all of the commercialism (I mean, can we do SOMETHING about Home Depot putting up Christmas
decorations before Halloween?!?) Christmas is still celebrated all over the world. Sure, some places have to be very careful about it. I go on medical mission trips to Egypt, and the church there has Christmas decorations
posted up all year round because it's illegal to put up special Christian celebrations. During a Christmas Eve Midnight
service a couple years
ago, a Muslim fanatic came into the church and started shooting up the believers. Maybe you read about it. It occurred about 10 yards from where we would do our health clinics, with
the people in that church serving as our translators.
What does this have to do with jazz? Very simple…there are traditions in all parts of life, be it religious, cultural or musical. Christmas has a plethora of them…mistletoe, Christmas trees, St.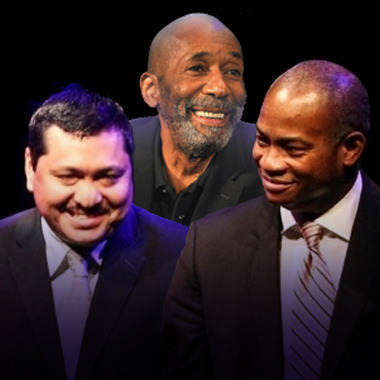 Nicholas, giving gifts, lights, candy canes, etc. Find out what the mean is behind these traditions.
For Christians, the evergreen tree symbolizes Jesus being the tree of life, the lights that He is the light of the world
(henceforth my aversion to
illuminated icicles on houses-He's NOT the icicle of the world!), St. Nicholas was a priest who gave gifts to poor children, the
candy cane symbolizes the shepherds who saw Jesus' birth, and the mistletoe, well,
whoever started it,  , I thank you for allowing me to kiss Anastasia Lucas at the 7th grade Christmas party!
Jazz also has its traditions in terms of repertoire, collection of styles, and instrumentation. Like in religion, we need to know where we've come from and grow from there. Don't deny the past, embrace the facts of it and what we can learn from it. The fact that Christians
believe that God became incarnate to live a life for us to objectively observe, as well as to teach us and ultimately give His life for us is an example of living out a truth
that we all should embrace. To truly sacrifice for someone else is the ultimate act of love, and Christianity teaches that. As a musician we
need to sacrifice much for our craft, in order to present the best example of our
work to others.
If we are "merely" fans, we should search out music like a
pilgrim, looking for the highest expression of art. Never settle for less, and when  you see or hear an artist
giving his or her all, show appreciation by BUYING their material, not illegally downloading it, and supporting them in concert. Above all, remember that "all good things are a gift from above" as the Bible says. It's startling how many artists realize the responsibility they
have with perfecting their God-given gift in order to make their Creator (and hopefully Savior) pleased.
So, when you hear good music, thank both the musician and God who gave that artist the gift.
Please contact us-here are some recent emails…
Hey, Man!
Thanks for having your site and reviewing us lowly jazz musicians by the way :0)
Aaron Walker
 Hello George,
Thank you so much for the wonderful review you gave to the CD that I made with Nathan Hiltz.  I love your energetic and vivid writing style, and your enthusiasm and comparisons to Anita (yes, one of my absolute faves) are a real boost!  Also, it's lovely that the review was posted the day before my birthday.  Best present this year!
Warm regards to you,
Yours,
Beverly Taft
Hi George
Thank you so much for the wonderful review of Soul Brothers. I am Otis Clay's manager and would love to send you his new release with his band, Truth Is, for review consideration and the upcoming
One-derful!
Records box set coming out in a coupe of weeks. He is featured in the Take Me To The River movie that just won another award for Audience Choice Documentary at the New Hamphire Film Fest
this past week end. .
Warm regards and thank you again
Miki Mulvehill
Hi George,
What a great interview with Joe La Barbera. My bass player Gordy Johnson worked a little with Joe when he played flute and piccolo in Chuck Mangione's "Land of Make Believe" live orchestra show in Toronto. I guess Gordy also played a few gigs with him and some recording sessions as well. What I would have done to have been a part of one of those!
Anyway, thank you for… that interview. Nice work George!
Chris Lomheim
Hi George !  I miss those fall leaves going to CT November 1st hope a few are left.  I sent your beautiful review to some dear friends including Chick Corea.  I have been talking to the president of the record label and I am considering re-visiting the Charlie Parker with Strings album because of your review like I did on the Clifford Brown with strings another album I wore out when I was a kid. The fact that you picked up on the romantic side of Bird which is what I was trying to get across really moved me.  You are right that seems to get overlooked and as you know the string album was his favorite work so that side was obviously very important to him. Sincerely, Glenn Zottola
Dear Mr. Harris --

Appreciated your nice review of the new Idiot Fish CD...naturally, I totally 
agree with your comments.  
Am a jazz musician myself down in San Diego via Detroit and still play in venues 
around town here.  
Also enjoyed reading your article about Boston: I echo all your thoughts!  And 
your musical fall selections were spot on.
Regards,
Gap Costantini - bari player