THIS MONTH'S TWO FEATURED ARTISTS,
                                      TOM KENNEDY AND NICOLAS MEIER,
                                    SHOW THE JOYS OF  BEING A SIDEMAN ,
                                               AND REVEAL THEIR SECRETS
                                                           THIS MONTH
                                  CHECK THEM OUT IN THE INTERVIEW SECTION 
      Match the artists below with their scheduled
 shows on the left!
HAPPY MOTHERS DAY!
DEDICATED TO THE LOST ON MEMORIAL DAY
I WANT TO BE A SIDEMAN
"He who exalts himself will be humbled, and he who humbles himself will be exalted" Luke 14:11
One of the paradoxes in life is the idea that in order to be a leader, you must first be a servant. History
has proven this statement of Jesus Christ to be true, even though every cell within us says otherwise.
We all want to be noticed and appreciated, but the fact is that you become indispensible by offering to people something that they cannot have otherwise.
That is the role of a servant . Most movies and songs exalt "standing up for
yourself" and "making yourself known," but once the beauty of being a true servant comes out, it makes self-exaltation look cheap and shabby.
A classic movie, Gungha Din, based on the Kipling novel, is a perfect example. All through the movie,
the lowly servant Gungha Din does all of the menial tasks for the army. He ultimately gives up his life to save the regiment, at which on reflection Kipling writes the classic poem,
"Though I've belted you and flayed you
By the very God that made you
You're a better man than I, Gungha Din"
That is the effect of true servant-hood, to which this month is dedicated.
Two holidays this month reflect the idea of humbling oneself. The
first, Mother's Day, allows us to appreciate the woman that brought us
into this world and gave up her own desires to raise us. Which is more praiseworthy, a mother who gave up her selfish dreams and
sacrificed for her children to make their world better, or one who abandons her kids and
family to "find herself"? Most people learn real humility and sacrifice from their moms.
The second holiday, Memorial Day, honors those who have given the ultimate service for their country. From the
Revolutionary War, through the Civil War, through two World Wars and the many conflicts since, men and women have given up their lives in order to keep our own country safe. One day of honor is not enough,
but at least it's a start.
What does this have to do with jazz? Ask any musician who they'd rather pl ay with, one who wants to be
in the spotlight, or one who
serves the music and the band? Even the musicians who have risen to the top at one time were lowly sidemen, to which this month is dedicated. We've interviewed two of today's top side
men, and allowed you to get a glance what attitude it takes to  "play well with others" as they used to say in elementary school.
If you go to a show, you can tell right
away if you pay a bit of attention; who is serving the music, and who is trying to show off his or her chops?
I've always been a sucker for the sideman in a big band
session, watching them sitting back, reading the charts, waiting for the right moment and jumping into the section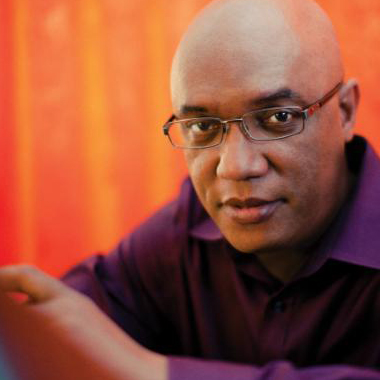 with a hip team effort, or
having him or her patiently counting off until he or she gets a chance for a 1-4 chorus solo, then sitting back down with sublime satisfaction.
As Dave Frishberg said in I Want to Be A Sideman:
I wanna be a sideman
Just a highly qualified man
A real professional pride man
Old Indispensible me.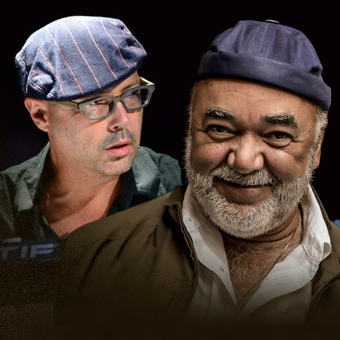 And that is the true lesson of life; by being attuned to what others want, and serving their needs, you become necessary
for them and therefore, you lead by serving. As a teacher once joked to me, "I don't mind you calling me a servant; just don't treat me like on." It takes true humility to "honor
others above yourselves," but it is the one thing that gives true satisfaction, and makes it easier to look in the mirror every day.
KEEP WRITING US. HERE ARE SOME RECENT COMMUNICATIONS…
Dear George
Just read your review–
Thanks for getting me- and always supporting my work! It means a lot to me.
Plus I love the way you write!!!
All my best
The Bon Vivant
Mark Winkler
************
Hi George,
Just wanted to thank you so much for the wonderful interview/article. And it was so great chatting with you, as well…. thanks for an all around enjoyable experience!
Thanks,
Tom Kennedy
************
Dear George,
Hope you are well. I just read your telephone interview with Nicolas Meier – very interesting! Nicolas and I have been good friends since he moved to the UK about 20 years ago – we also live very close to each other so we see each other frequently.
I think his latest album is his best to date – having Jimmy and Vinnie on it is awesome!
Also, I wanted to take the opportunity to see if you received my album 'The Time Thief' Redtenbacher's Funkestra. I know you are very busy – just wanted to check that it actually has arrived for whenever you might have some time for it.
Thank you very much.
Kind regards,
Stefan Redtenbacher
************
I enjoyed your fun article, thanks.
You may want to note that we actually don't say 

"Christos Anesti"

 during Lent, but we do greet each other that way for the period after the Resurrection through Pentecost.
A lot of Greeks will say "Kali Anastasi" during Lent.
************
Dear Jazzweekly,
I've been enjoying your articles – as well as your support – and am wondering where you are based?
Thank you!!
Heather Bambrick
Toronto, Canada
(we're based in So Cal)
***********
Hi George!
Thanks for your nice review of my new album "Soulfully Yours"
Yes, "Spirit of Life" definitely has a Miles vibe to it since I use an old Conn Multi Vider and the overall groove is somewhat in the tradition of early seventies Miles. But the intention was not at all to sound like that. I just decided tempo and key and we just played. One take….
My father was a great jazz pianist and of course I heard a lot of Miles when I grew up but my musical background came more from players like Freddie, Lee, Wayne, Bird and Woody among many others. The rest of the album really has very little to do with Miles specifically or whoever else. It's really a result of a whole life's various and important musical inspirations. In my opinion (and many other listeners, colleagues and reviewers as well) it's a very unique album and very much just a result of different parts of my musical heart.
But thanks again for the review. I definitely respect your personal view. Just wanted you to hear my opinion. Hope that's ok!
All the best from Dublin right now where me and Perico Sambeat are playing with the Phil Ware Trio.
-Anders Bergcrantz
************
Dear George!
Thank you very very much for your review. I'm very happy that you enjoyed the music and the review is really nice and original. once more you showed a great attention to the music and I'm so grateful for that. 
Let's keep in touch and ALL THE BEST from Italy.
CIAO!!!
Enzo Rocco
***********
Mr. Gadd, you are a he'll of a drummer. I listen to you when you where playing with, Grover Washington Jr. It's so good to see that you are still playing!
Diane Batchelor
************
Hello George,
I guess my Label sent you the CD. I would like to thank you for taking the time to listen to my music.The word you used really resonate with the way I perceive my music.
Thank you very much.Take Care
Salvo Palmero
**********
Hi George,
Great website, I'm finding a lot of new music to listen to!
Thanks,
Rose Ellis
************
Hey George!
Thank you for this wonderful article. As I told my team, this is probably my favorite article during the promotion of the new CD, "G." It's in-depth, balanced, accurate, and shows the various sides of me as an artist.
Thank you for your support, and love for this music.
Best,
Gerald Albright
************
Thank you Jazz Weekly and you- George for taking the time to review my Work. best to y'al!
Mort Weiss SMS JAZZ "The Mort Report"
************
Hey George-
Funny enough after I was summarily fired from Verve Records back in '97 I cooled my heels to get away from it all and moved to Sherman, CT. The real estate broker told me, 'do you know Tommy Lipuma?" He's your next door neighbor!" It was the house + barn where he recorded "Unforgettable." Tommy had not taken over at Verve for another couple years and we somehow lived in peace, as he heard me in the distance banging my drums and driving my Ferrari at top speed (very loudly) on our rural roads in horse country. Super nice man. Love him. We even had Llamas next door too.
Thanks for the article,
Guy Eckstine
**************
Hi George,
Thanks for the good notice for Dream Suite and the terrific placement in your column. Much appreciated. Glad that you enjoyed the work.
Happy Holidays and
Best Regards,
Louis
***************
Dear George,
I tuned in here to your writing to read a review of my latest disc, but instead I found an article on giving thanks, faith, and perspective. I been struggling in near every area of my life for nearly a decade. In my tight little family I faced cancer, drugs, lost faith, Alzheimer's, and the prospect of supporting us on a musicians wages. I have been overwhelmed with my loss and how complete it seemed. Someone can say right thing to you at the right time and suddenly your life can seem so much better. Thank you for the article.
Warm Regards
Bill Johnson
( o)==#
***********
Hi George-
You inspired me to write the Thanksgiving Song !
Very good article, thanks
Hamid Cooper
**********
Dear Jazz Weekly,
I ran into your 2014 interview with Larry Carlton. I've been a Steely Dan fan for 35 years but never knew anything about Larry. I loved hearing that Larry is a man of faith, even after the gun shot incident. Thanks!
Tom Moyer
**********
Hi George!
Really great work, George. That was one heck of a conversation with Kirk Whalum!
Peace, Love and Joy,
Rick Scott
**********
Hey, George.
I just loved your "Who Are You?," especially the winsome way you witnessed with it without ever being heavy handed. Liked Sinatra losing his voice because of Ava Gardner, as well!
Regards,
Tim Philen
 ********
Hey George,
thanks again for this great review!
All best,
Denny Zeitlin
********
Dear George,
"I'm still breathing..that's what I do…"
 Great article on David Murray…If you follow your creative heart you may not see where your going but the Holy Ghost knows..Trust Him..Worship Him.  The pay off is not even comparable to what the world has to offer .  Music is like church…   Your  article was part of my devotion this morning.. Keep up the inspirational assignment..the payoff is huge.. Love you George..
         In His  Note,  Bob Gorton.
********
George-
Great article. Thanks. I'Il share with the boys!
Philippe Saisse (Al Di Meola Band)
********