HAPPY VALENTINE'S DAY
 THIS MONTH'S TWO FEATURED ARTISTS
                                                 MAKE ROMANTIC MUSIC                                                                                                            SOUND EASY
FEATURED THIS MONTH
CHECK THEM OUT IN THE INTERVIEW SECTION 
Match the artists below with their scheduled
 shows on the left!
http://www.thebroadstage.com/en/Performances/visiting_events/Productions/lisahilton/
Check them out and enjoy the sounds at www.modernjazztoday.com
LOVE POWER!
I bet you don't know the real origin of Valentine's Day.
Like Christmas, greeting card companies came and swept away the true essence of February 14th. The day was originally a holy day dedicated to Saint
Valentine of Terni, who lived from around 173 to 276. As tradition tells it, Valentine was under arrest in Umbria by Judge Asterius. The judge tested Valentine's faith by challenging the Christian to heal his blind daughter. When Valentine did this, he not only freed the saint, but gave him a free wish, which was to destroy all of the pagan idols, free the Christian prisoners and be baptized. All of which happened. AH! The good old days!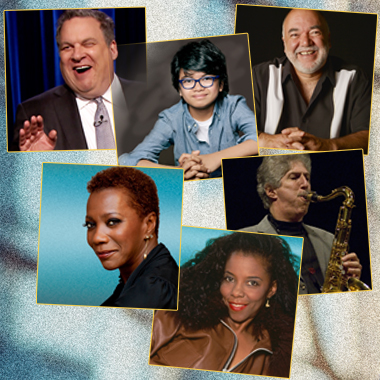 Later, under the leadership of the Roman despot Claudius, a law was passed that forbade soldiers to married, under the assumption that "women weaken legs" (as they say in Rocky). Defying the government, Valentine secretly married couples. For this, and for refusing to worship pagan idols, he was beheaded, but not before writing letters to the
young lady healed from blindness, by which he signed his communications "Your Valentine." How's that for "religion" standing up against tyranny? Does it sound familiar?
What does this have to do with jazz? ARE YOU KIDDING?
I was recently talking to a major jazz festival promoter, and he brought up an interesting point. A generation ago, the ratio of songs about "I Love You" versus other topics was about 80-20. Now, it's 80-20 with the main topic about "ME" or "I WANT TO DEBASE YOU." The lyrics,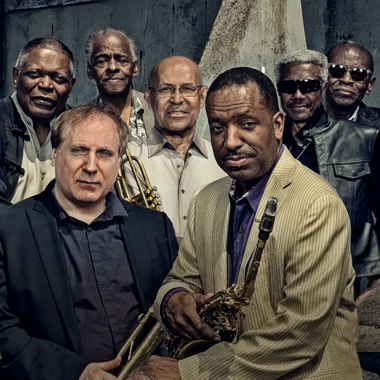 unfortunately, are also reflected in the style of playing, as notes are now attacked instead of caressed and wooed.
I'll never forget at a jazz club Betty Carter was singing a gorgeous ballad and faded away to allow the young saxist to solo. He was going to aggressively and Ms. Carter simply advised,  "Make love, baby" and then shook her head, "Oh, the young."
Music was originally intended to express the
emotion of love. The first recording of a song is in the Bible, in the book of Exodus, the Hebrews are singing a love song to God. In the New Testament, the first song is Mary singing the "Magnificat" another musical devotion. When I worked in Israel in the early 80s, I was amazed how many folk songs were about water! You always sing about what you need and  want more of!
However, music can also be pointed into the wrong direction. Abraham and Joshua found the same Hebrews singing to a false god of a golden calf. And just like there are songs about true love, there are also songs that glorify infidelity and debasement.
A great philosopher wrote "there is no neutrality." Every song is loving
something, either truth and beauty or falsehood and ugliness. So, when you're playing an instrument, what are you trying to show that you love? The beauty of God? A woman?
Of music itself? Of God's creation?
Music is supposed to tell a story. Make yours one of love.
The same goes for being a music fan. Develop an appreciation for lyrics that speak about love in clever ways. The guys like
Berlin, Porter, Mercer and Kern were geniuses about it. My monthly No One Asked My Opinion list a partial canon of standards that every self respecting jazz fan should own. Check it out, and become an expert on love!
KEEP WRITING US. HERE ARE SOME RECENT COMMUNICATIONS…
Hello George,
I guess my Label sent you the CD. I would like to thank you for taking the time to listen to my music.The word you used really resonate with the way I perceive my music.
Thank you very much.Take Care
Salvo Palmero
**********
Hi George,
Great website, I'm finding a lot of new music to listen to!
Thanks,
Rose Ellis
************
Hey George!
Thank you for this wonderful article. As I told my team, this is probably my favorite article during the promotion of the new CD, "G." It's in-depth, balanced, accurate, and shows the various sides of me as an artist.
Thank you for your support, and love for this music.
Best,
Gerald Albright
************
Thank you Jazz Weekly and you- George for taking the time to review my Work. best to y'al!
Mort Weiss SMS JAZZ "The Mort Report"
************
Hey George-
Funny enough after I was summarily fired from Verve Records back in '97 I cooled my heels to get away from it all and moved to Sherman, CT. The real estate broker told me, 'do you know Tommy Lipuma?" He's your next door neighbor!" It was the house + barn where he recorded "Unforgettable." Tommy had not taken over at Verve for another couple years and we somehow lived in peace, as he heard me in the distance banging my drums and driving my Ferrari at top speed (very loudly) on our rural roads in horse country. Super nice man. Love him. We even had Llamas next door too.
Thanks for the article,
Guy Eckstine
**************
Hi George,
Thanks for the good notice for Dream Suite and the terrific placement in your column. Much appreciated. Glad that you enjoyed the work.
Happy Holidays and
Best Regards,
Louis
***************
Dear George,
I tuned in here to your writing to read a review of my latest disc, but instead I found an article on giving thanks, faith, and perspective. I been struggling in near every area of my life for nearly a decade. In my tight little family I faced cancer, drugs, lost faith, Alzheimer's, and the prospect of supporting us on a musicians wages. I have been overwhelmed with my loss and how complete it seemed. Someone can say right thing to you at the right time and suddenly your life can seem so much better. Thank you for the article.
Warm Regards
Bill Johnson
( o)==#
***********
Hi George-
You inspired me to write the Thanksgiving Song !
Very good article, thanks
Hamid Cooper
**********
Dear Jazz Weekly,
I ran into your 2014 interview with Larry Carlton. I've been a Steely Dan fan for 35 years but never knew anything about Larry. I loved hearing that Larry is a man of faith, even after the gun shot incident. Thanks!
Tom Moyer
**********
Hi George!
Really great work, George. That was one heck of a conversation with Kirk Whalum!
Peace, Love and Joy,
Rick Scott
**********
Hey, George.
I just loved your "Who Are You?," especially the winsome way you witnessed with it without ever being heavy handed. Liked Sinatra losing his voice because of Ava Gardner, as well!
Regards,
Tim Philen
 ********
Hey George,
thanks again for this great review!
All best,
Denny Zeitlin
********
Dear George,
"I'm still breathing..that's what I do…"
 Great article on David Murray…If you follow your creative heart you may not see where your going but the Holy Ghost knows..Trust Him..Worship Him.  The pay off is not even comparable to what the world has to offer .  Music is like church…   Your  article was part of my devotion this morning.. Keep up the inspirational assignment..the payoff is huge.. Love you George..
         In His  Note,  Bob Gorton.
********
George-
Great article. Thanks. I'Il share with the boys!
Philippe Saisse (Al Di Meola Band)
********