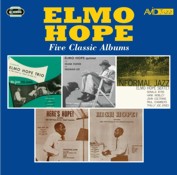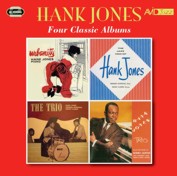 Summer heats up with these five new 2cd sets from UK based Avid Records. Their recent delving into roots is a real treat as well.
Pianist Elmo Hope never got the popularity he deserved, being under the shadow of Thelonious Monk and Bud Powell while having his career cut short by drug addiction. These five albums come from the day of 10" lps, from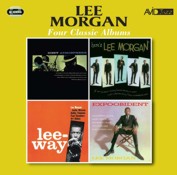 the early 50s. From '53, a trio with Percy Heath and Philly Joe Jones focuses on originals such as the clever "Stars Over Marakech" and "Freffie" with the next year a quintet with Frank Foster/ts and Art Blakey/dr dig deep on "Crazy" and "Chips." Most famous was his one-off with John Coltrane in a quintet setting that produced a wonderful "Polka Dots and Moonbeams" and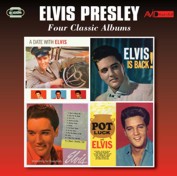 hard bopping jam of "Weeja." From 1961, a trio with Paul Chambers and Jones simmers on "De Dah" and When the Groove is Low." Overlooked and under-played.
Pianist Hank Jones was one of the most consistent boppers, always classy and elegantly swinging. This 2 cd set includes his rare solo sessions form 1947, displaying his Art Tatum influence on solo reads of "Tea For Two" and "Yesterdays" A quartet with guitarist Johnny Smith is luscious, with Smith and Jones sounding like they've imbibed from the waters of the Nat "King" Cole Trio on  "Little Girl Blue" and "Thad's Pad" and "'." From 1955, a hip trio session with Wendell Marshall/b and Kenny Clarke deftly displays "There's A Small Hotel" and his own "Odd Number, while the same trio adds Jerome Richardson/ts-fl, Herbie Mann/fl, Donald Byrd/tp, Joe Wilder/tp and Matty Dice/tp for some sophisticated bop on "How High the Moon" and "Bluebird."  A session from the next year has the same rhythm team with Bobby Jaspar on flute and tenor for a stretched out "Relaxin' At Camarillo's" as well as a snappy "Spontaneous Combustion." Wonderful!
Lee Morgan was the quintessential hard bop trumpeter of the 1950s. Already, at just 18 when this 1957 is underway on a session with fellow sidemen from Dizzy Gillespie's big band, and even  with the likes of Billy Mitchell/ts, Wynton Kelly/p and Charlie Persip/dr he sounds in complete authority, delivering a rich read of "Whisper Not" as well as "Day By Day." Three sessions from 1960 have him with as many labels. In February, he sounds like he's auditioning for the Jazz Messengers as Art Blakey's on the drums on a smoking "Terrible T" and hip "Bess." From April, Blakey with Paul Chambers/b, Paul Timmons/p and Jackie McLean/as deliver a Blue Note special as they groove on "Midtown Blues." The October team with Blakey, Art Davis/b, Clifford Jordan/ts and Eddie Higgins/p deliver classic hard bop on "The Hearing" and wax melody on "Easy Living" and "Just In Time." The definition of soulful jazz.
Lightnin' Hopkins is at his absolute apotheosis on these albums that range from 1946-62. The late 40s sessions from Los Angeles have him playing a nasty guitar on "Sis' Boogie" while sounding like he invented rock and roll 10 years early on "Morning Blues" and "Have to Let You Go." He's in Houston in 1959 for the classic Folkways album, sharing stories of Blind Lemon Jefferson on "Remembering Blind Lemon," delivering traditional tunes like "Penitentiary Blues" and producing a harrowing "Bad Luck and Trouble." From 1961 a fun "Wine Spodee-O Dee" and "Buddy Brown Blues" get the juke joint jumping, whereas a recording from 1962 has him in a setting with harpist Billy Bizor, pianist Buster Pickens and Spider Kilpatrick. The team gets rootsy on "Black Cadillac" and inspire a whole generation of white rockers on "Good Morning Little Schoolgirl." WHEW!
The King of Rock, Elvis, gets debuted on Avid with material that rode the wave of his popularity. A mix of early Sun sessions and later hits show Presley in rockabilly form on "Blue Moon Over Kentucky" and "I Forgot to Remember to Forget" while rarely exceeding the energy of "Good Rockin' Tonight." In 1960, Presley returns from the military, still with the classic team of Scotty Moore/g, Hank Garland/g, DJ Fontana/dr, Floyd Cramer/p and even Boots Randolph/ts for hip pieces  like "Fever" and the ditty "Soldier Boy." Presley is in great voice on Something For Everyone, crooning on "Sentimental Me" and "In Your Arms." Pot lick from '61 includes the all time classic "Suspicion" as well as under-appreciated rockers like "Night Rider" and "Such an Easy Question." Nothing from his movies, and no re-hashes, both a good sign.