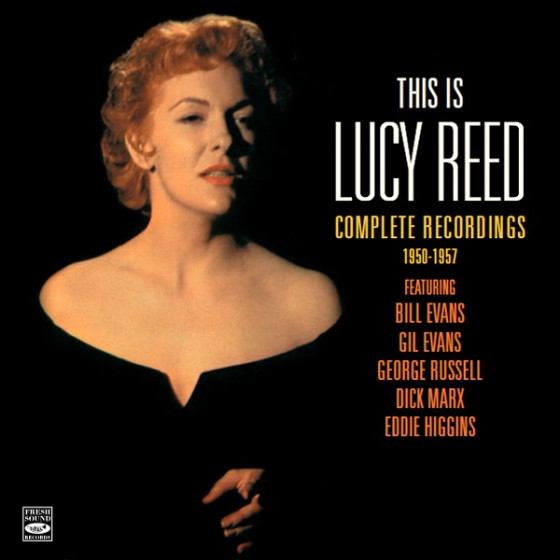 Was there a secret female singer breeding ground back in the 1950s or something? It's simply amazing how many vocalists Fresh Sound Records finds and re-introduces to today's ears that I've never heard of. These two sessions will make you wonder two things a) how did I ever not know about these singers before, and b) who ELSE am I missing?
Lola Albright (1924-2017) was better known as a blond beauty actress on shows like "Peter Gunn" (on which she also sang), but these sessions from 57-61 showed that she knew how to carry a tune as well. Her voice has that vintage playful and "come hither" twinkle in the eye, and in the hands of orchestras lead by Dean Elliot and Henry Mancini, she writes "for a good time, call…" on cozy pieces like the coy "Candy" and slinky "Put Your Arms Around Me." She shows a little vocal leg on the playful "All of You" and whispers in your ear on "Brief and Breezy," while oozing with temptation on "Dreamsville." She runs her fingers through your hair on "Slow and Easy" while leans back in the passenger seat on "Just You, Just Me." The songs from "Peter Gunn" have a TV feel to t hem, and she is more canary than chanteuse on "September in the Rain," and "How  High The Moon," but you might not even be paying attention after the first two albums. WHEW! Better loosen your collar, buddy! The excellent liner notes give you some background on this lady, making this a real ringer.
Lucy Reed (1921-1998) was a vocalist for swinging bands like Woody Herman and Charlie Ventura, and she boasts of an alluring husky voices. While there are a handful of orchestra recordings with Ventura, as well as Chuck Sagle, Al Trace and Lew Douglas with their respective orchestras, the reason  you're going to want this 2 cd set is her collection of intimate small group sessions with the likes of pianist Bill Evans (and you thought you had everything by him!!!), Gil Evans and George Russell (on drums!) among others. Interested yet?
Reed teams up with Evans in both a quartet and duet supporting role. Of the former, a 1955 session of Evans with Bob Carter/b, Howard Collins/g and Sol Gubin/dr  has the O'Day-inflected vocalist sauntering n "There's a Boast Dat's Leavin'" as well as a world wise "Fools Fall in Love" while she actually chirps ina hep fashion during "Baltimore Oriole." She's clear and foreboding on "No Moon at All" and warbles with Evans on "That's How I Love The Blues." Evans and Carter create deft and tender framework for a reflective aria on "My Time of Day" and a loose " My Love is A Wanderer." The team of pianist Dick Marx and bassist Johnny Frigo make Reed carefree on "Flying Down to Rio" while going stark on "It's a Lazy Afternoon."
Famed arranger George Russell is the drummer along with Art Farmer/tp, Milt HInton/b and others for an intimate "This Is New" and sleek "Born to Blow the Blues." Gil Evans keeps his Miles Ahead sound in a septet with Jimmy Cleveland/tb and Russell on a noir-ish "Love For Sale" and wood-windy "There He Goes."  One last quartet lead by pianist Eddie Higgins includes a relaxed "Lucky to Be Me" as well as a frenetic "St. Louis Blues." This lady could do it all, and she knew with whom to do it. Once again, the voluminous liner notes will serve you well. Ignore this one at your own peril!
Fresh Sound Records