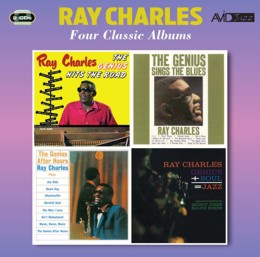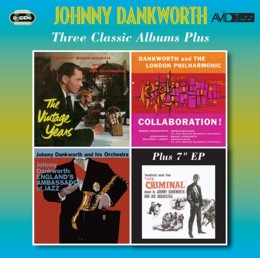 UK-based Avid Records continues to find some of the best un-mined material from the mid 20th Century. Lately, they've added blues, R&B and the roots of rock to their repertoire, and we are better off for the decision. Here's the latest mother lode…
Ray Charles is at his artistic peak on these four albums from 1960-61. In March, his Hits The Road album includes arranger Ralph Burns as well as his famed sideman Hank Crawford for the swinging "Alabamy Bound" and classic "Georgia On My Mind" as well as 10 other tunes about Americana. In December, the swinging Genius+Soul=Jazz album has charts by Burns and Quincy Jones as well as members of Count Basie's Orchestra including the hard hitting drummer Sonny Payne. Charles hits the organ for a hot "One Mint Julep" and "Moanin'" and sways on the
vocals on the ribald "I've Got News For You." In '61, he gets bluesy with the Raelettes on the riveting "(Night Time Is The Right Time" and delivers a swinging instrumental album which includes David 'Fathead' Newman/ts and Oscar Pettiford/b on "Joy Ride" and "Hornful Soul." This is a delight!
Alto saxist and clarinetist Johnny Dankworth is mostly known these days for his partnership with Cleo Laine, but the UK artist had a swingin' band back in the 50s and 60s. His Vintage Years album from '58 has him doing some bold and brassy revisitations of Bog Band hits like 'Crazy Rhythm' and "How High The Moon' while the band swings hard in '59 to originals like his own "Joe and Lol" and "Sunflower." Dankworth gets a bit artsy with the London Philharmonic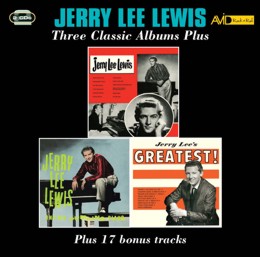 Orchestra for modern classical "Improvisations for Jazz Band and Symphony Orchestra" that revisits Igor Stravinsky's "Ebony Concerto" as well as the five part "Rendezvous." Four pieces from the swinging and hip soundtrack The Criminal round out his 2 disc set of an underappreciated swinger from the other side of the Atlantic.
Stan Gets has his third compilation reissued here, and my only question is "When is #4 coming out?!?" as if you're a real jazz fan, you can never have enough of Getz. These 4 albums from the '50s include a swinging '52 session with Duke Jordan/p, Jimmy Raney/g, Bill Crow/b and Frank Isola/dr for a sublime "Stella By Starlight" and "Stars Fell On Alabama." Gets reunites with his Woody Herman sax section of Al Cohn, Zoot Sims and guests Allen Eager & Brew Moore for some velvety swing on "our And One Moore" and "Battle of the Saxes." Pieces like "The Red Door" and "Zootcase" are parts of Tenor Sax Heaven, while Dizzy Gillespie joins in and puts in his mute for a delightful "It Don't Mean A Thing" and "Siboney" Cal Tjader leads a team of Vince Guaraldi/p, Scotty LaFaro/b, Eddie Duran/g, Billy Higgins/dr and Getz for a bopping "Crow's Nest" a gentle "I've Grown Accustomed to Her Face" and a festive "Ginza Samba." I'll let you know when to stop!
Speaking of Getz, Bobby Jaspar, while better known for his flute playing, sounds remarkably like Stan Getz on this collection of albums and eps from the mid 50s. He teams up with Chet Baker for a couple of tracks, and both are in hard bop for on "How About You." He's sublime with Billy Byers's trombone on the well arranged "Everything Happens to Me" while there's a ringer of a session that he leads with John Coltrane, Mal Waldron, Kenny Burrell, Paul Chambers, Art Taylor and a pair of trumpeters for relaxed and hip jams like "Light Blue" and "Soul Eyes." Another All Star session has him in Paris during '55 with some locals for rich and concise reads of "Bag's Groove" and "Milestones" while he finally gets around to playing his flute on a '57 session which includes Elvin Jones for "Sweet Blanche" and "My Old Flame." Rewarding and underrated.
Off all of the progenitors of rock and roll, Jerry Lee Lewis is undoubtedly the Heat Seeing Missile. His earliest sessions had him with a rhythm team of Roland Janes/g, Billy Riley/g, Jay Brown/b and James Van Eaton/dr that dug deeper than anyone on a chain gang. Lewis' own piano playing was a torrential force, while his hiccupping vocals was filled with grit. There are few songs as infectious as "High School Confidential" and "UbangiStomp" from his self titled debut, wile his Pumping Piano album includes the incessantly driving"Great Balls of Fire" and "Whole Lot of Shakin' Going On" but the fun filled 'Breathless." A collection of his Greatest Hits and singles rounds out the 2 disc set, and when it's all over, you'll understand easily why he was called "The Killer." WHEW!