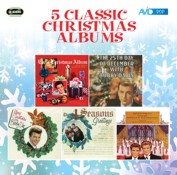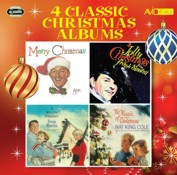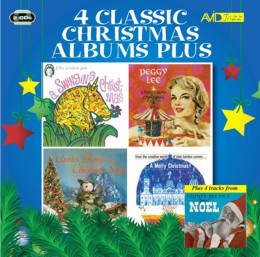 Let's put it this way; if you don't find anything on these Christmas releases that makes your star shine in the sky, you're probably a Druid. Read on…
Der Bingster from 1955 delivers an absolute definitive collection of "Silent Night," "Adeste Fideles" and even "Christmas in Kilarney" with gurest ranging from The Andrews Sisters to Carole Richards. Sinatra teams with Gordon Jenkins in '57 for a post-Ava collection including "It Came Upon A Midnight Clear" and "Jingle Bells" while Dean Martin puts down the Christmas cheer for an upbeat "Let It Snow!" and "Winter Wonderland." Nat King Cole clears the bases with Ralph Carmichaels orchestra on a lovely "O Holy Night" and "Joy To The World" that would make a heavenly host jealous. Essential!
The next album is a teeny bopper's delight, with Elvis in 1957 delivering the absolute definitive read of "Blue Christmas" and "Here Comes Santa Claus" like it's Christmas in Memphis. Bobby Darin taps into his inner Catholic on "Ave Maria" and "Dona Nobis Pacem" while previewing his folk years on "Mary Where Is Your Baby?" Bobby Vee takes his pompadour and has fun with "Jingle Bell Rock" and "Christmas Vacation" while the Four Seasons take you to Jersey with some great harmonies on "The Carol of the Bells," "What Child Is This" and "Joy to the World" making sure a big girl like Mary didn't cry. The Everly Brothers bring home spun charm to pieces like "Away In A Manger" and "God Rest Ye Merry Gentlemen." This music is like a stocking stuffer!
The last cd is the swingingest of all. Ella Fitzgerald's classic album sizzles with "Jingle Bells" and"Frosty the Snowman" while she is delightful on "Have Yourself a Merry Little Christmas." Peggy Lee gets vo-cool with some cooing on "I Like A Sleighride" and "The Christmas List" The team of Lou Levy/p, George Van Eps/g, Harry Klee/reeds and BillY May's Orchestra makes this one a toe tapper. Blueser Charles Brown gets  hip on "Christmas Blues" and gets down to business on "Merry Christmas Baby" while he sounds all alone in a Chinese restaurant on the 25th on "Christmas With No One to Love." Stan Kenton in 1961 makes everything sound like "Happy New Year" anyway, so he's right in the spirit with "We Three Kings" and "Once In Royal David's City" while his "Twelve Days of Christmas" will get your maids a milkin'! Sidney Bechet closes out the set with his wide vibrato working wonders on "Silent Night" and his own "Spirit Holiday." Joy to the world!