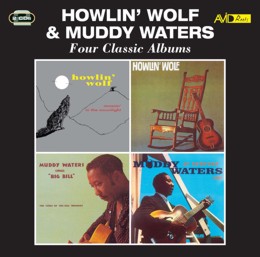 The great thing about Avid Records is that they find material from artists not only world famous, but completely obscure. These latest two releases are perfect examples.
This double disc of blues includes four of the most important releases to grace your ears. Howlin' Wolf is teamed here in sessions ranging from 1951-62 with Willie Johnson/g, Hubert Sumlin/g, Willie Dixon/b, Earl Phillips/dr, Otis Spann/p, Willie steele-Sam Lay/dr and Adolph Billy Dickins/ts or Donald Hankins. The Moanin' In The Midnight album has Wolf running through mostly his own material such as classics that include "Smokestack Lightnin'" and "Baby How Long." His voice is an ominous whirlwind of power, and he sounds absolutely stunning throughout. The second album has Wolf covering the Willie Dixon catalogue,with "Spoonful," "Back Door Man," "The Red Rooster" and "Wang-Dang-Doodle" getting definitively ominous  reads.
Muddy Waters teams up in 1959 to sing Big Bill Broonzy material with Pat Hare/g, James Cotton/harp, Spann/p, Andrew Stephenson/b, Francis Clay-Willie Smith/dr in a studio setting, with "Southbound Train" rolling down the line and a swinging read of " I Feel So Good." The classic At Newport has almost the same team for the 1960  show, with two takes of "I've Got My Mojo Working," and riveting reads of "I'm  Your Hoochi Coochie Man" and "Baby Please Don't Go." This is a keeper!
Has anyone ever heard of vibes player Lem Winchester? This one threw me for a loop. He was a former policeman who became a jazz player, just before he died during a tragic accident. These four albums show a heart of a bopper. From 1958,he leads a quartet with Ramsey Lewis/p, Eldee Young/b and Isaac Holt/dr through a swinging tribute to Clifford Brown, and makes "Jordu" and "Joy Spring" bounce with delight. A wonderfully put together team of Benny Golson/ts, Tommy Flanagan/p, Wendell Marshall/b and Art Taylor/dr do wonders in '59 with a snappy "If I Were A Bell" and make magic with "Will You Still Be Mine?" Oliver Nelson/ts and Curtis Peagler/as join the front line for a hip jam on "Eddy's Dilemma" and a cooking read of "Just Friends" where a couple months later Frank Wess/fl,  Hank Jones/p, Eddie Jones/b and Gus Johnson/dr float delightfully on"Blues Prayer" and "Like Someone In Love." Winchester had a marvelous touch as well as a deft sense of swing, and the surrounding all stars  are in vintage form.
Avid Music Group