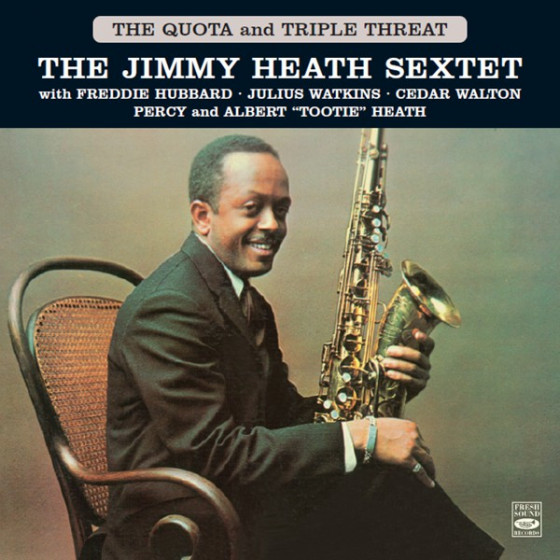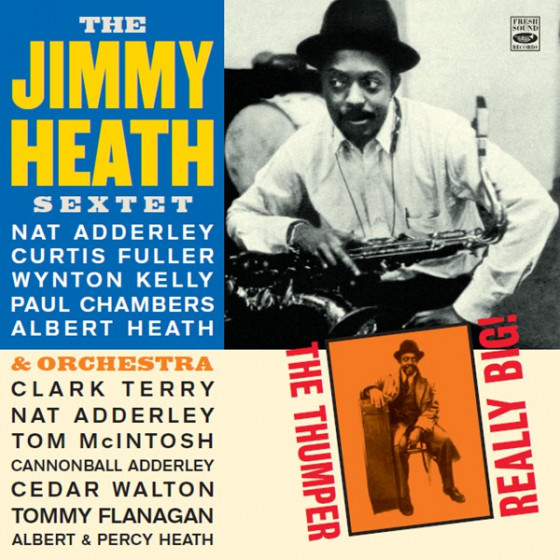 Tenorist Jimmy Heath is one of the last living musicians that played under the shadow of Charlie Parker. He switched from alto so he'd stop being compared to the icon. His composing and arranging skills set him apart from guys like Dexter Gordon, and as these two single discs from the late 50s and early 60s attest, he knew how to swing a band.
The Sextet & Orchestra album includes a 1959 session (the most important year in jazz recordings BTW) with Nat Adderley/ct, Curtis Fuller/tb, Wynton Kelly/p, Paul Chambers/b and "Tootie" Heath/dr. His tenor glows on "For All We Know" and "Don't You Know I Care," while the band sizzles on "The Thumper." Adderley's coy sounding horn glows warmly on "For Minors Only" and the rhythm section defines hard bop. The Orchestra session beefs up with Clark Terry/tp, Cannonball Adderley/as, Pat Patrick/bs, Cedar Walton-Tommy Flanagan/p, Tom McIntosh/tb and Dick Berg/frhn and hit hard on "Big 'P'" and a raucously driving "Old Fashioned Fun" while they add zest to "Dat Dere" and flavor to "On Green Dolphin Street." Terry's sweet horn feels right at home  here and everyone sounds inspired. WHEW!
The Jimmy Heath Sextet consists of the ultra hip combination of Freddie Hubbard/tp, Julius Watkins/fh, Cedar Wlaton/p, Percy Heath/b and "Tootie" Heath on a pair of sessions from '61 and '62. The inclusion of Watkins' French horn adds a rich texture to the mix, as everyone gets a chance to blow on "Thinking Of You" while the rhythm brother Tootie gets to have some fun on the 'fours.'  Heath's composing shines here on the irresistible "Lowland Lullaby" and the funky backbeat of "Down Shift." Hubbard is the cock of the walk here, but Heath's tenor is a charmer as he glows on the standard "Goodbye" and goes bel canto on " Make Someone Happy." This is stuff of what dreams are made.
Fresh Sound Records