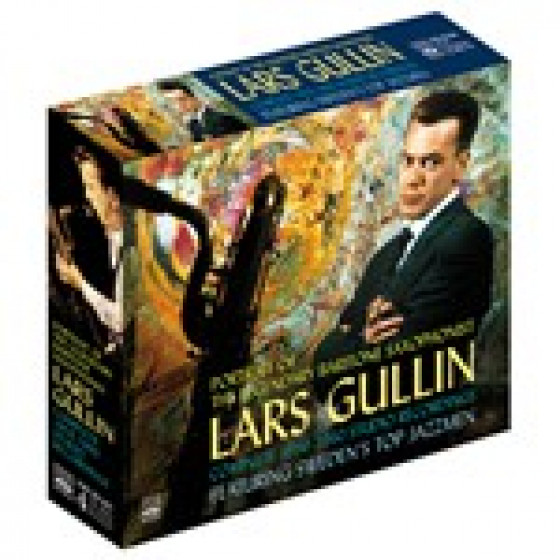 I'm willing to bet that there aren't enough fans out there of Swedish baritone saxist Lars Gullin (1928-1978) to fill a Volkswagen Beetle. His legacy has at least two strikes against him; 1)  he spent most of his time in Sweden, not exactly a mecca for American fans and 2) he was a drug addict that ultimately ended his life prematurely at 48. Here, you've got four discs of the Gerry Mulligan-inspired saxist and if you're a fan of bop that is alternatively  hip, cool and swinging, you're gonna fall in love with this warm-toned gent.
He's found here in a collection of recordings from Sweden that find him in bands ranging from duos, trios, quartets, quintets, sextets, septets, octets and big band. Ranging in size, the duets with alto saxist Rolf Billberg create cooing takes of "Sweet and Lovely" and "My Old Flame." The trio team of Gullin with Rune Gustafsson/g and Claes Lindroth/b is suavely swinging, with Gullin filling the room with a bel canto sound on "I Love You" and "What's New?" Gulllin does wonders with "Lover Man" and does a surprisingly uptempo take of " You Go To My Head" that hits it just right in a quartet setting. A pair of quintet sets have him with Rolf Billberg/ts and Poul Godske/p on a hip "Lover Come Back to Me" or bringing along Jan Allan/p and Rune Gustafsson/g with a clever " Icarus On The Moon."
A septet session with Arne Domnerus/cl cruises joyfully on "How About You?" and he seems to revel in the Octet format, as many of the sessions are in this mode, with his own compositions "Fedja" "Fine Together," and "Baritonome" giving hints of Miles Davis' Birth of the Cool sessions. A single sesson with Gosta Theselilus and His Orchestra has a heavyweight jabbing "Lover Come Back To Me" and a wondrous "Yesterdays."
I know that usually you don't associate swinging jazz from 50s Sweden, but trust me on this one-it's a real treat!
Fresh Sound Records