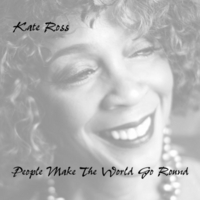 Here are two femme fatales for the jazz fan!
Sharon Marie Cline brings together a team including Rich Eames/key, Luther Hughes/b and Jon Stuart/dr along with other guests on this rich collection of material that stretches generations and continents. Her velvety voice caresses Ivan Lins' "Love Dance" and Tom Jobim's  Quiet Nights of Quiet Stars" with Brazilian charm, and makes them fit in like a puzzle along with swing era pieces like "If Dreams Come True." She does some marvelous things with Rogers and Hammerstein's "Happy Talk" and sounds convincingly vulnerable on "How Long Has This Been Going On." Eames' own "This is Where I Wanna Be" has some impressive lyrics by the vocalist, making you hope she does a release of her own material. You'll like her!
Kate Ross adds a touch of modern R&B into the mix here with a team of Caleb Hutslar/key, Roger Myers/dr, Dave Irwin/b and "Crait Mcmullen/g. A nifty "Jazz" includes some nice guitar work, while some slinky joy is delivered by the optimistic vocalist on "Meet Me." She's got a gift for clear and timely enunciation, making her voice another instrument whiel she songs on the driving "People Make the World Go Round" and the ballad "Home To Me." By the time she completes last song on the 8 tuned  ep with "Without a Song," you will want more from this promising lady.