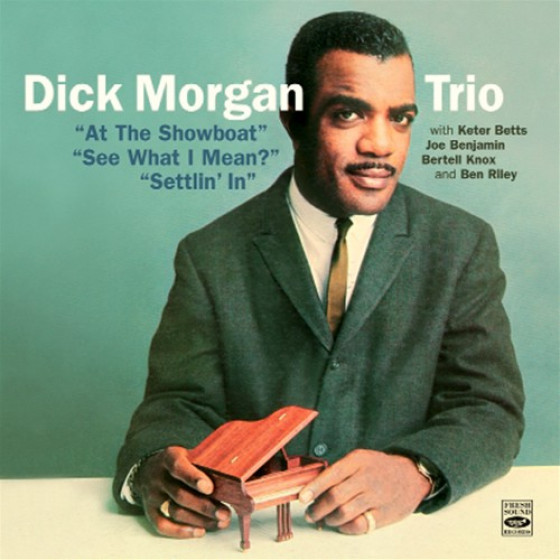 Fresh Sound Records is doing what Mosaic Records USED to do: put out important but obscure material by important but obscure artists. For some reason, Mosaic releases only dribbles a year, while the Spain-based Fresh Sound Records is making more music than the EU is printing Euros! Here are a couple 2 cd sets that are a MUST for your collection.
As far as under appreciated pianists goes, start right here with Dick Morgan. He dropped out of sight after these three records from 60-61, and resurfaced in the 90s only to go back underground. What we've got here is a guy who leads a trio (with Keter Betts/b-Joe Benjamin/b and Bertell Knox/dr-Ben Riley/dr) and has a touch that gives a tip of the hat to Ahmad Jamal, Red Garland and Wynton Kelly. His session At The Showboat will make you think it's Jamal At The Pershing, as that wonderful sense of rhythm and timing is in abundance here, as well as a terrific sense of swing.  A piece like "The Gypsy in my Soul" or a honkin' blues like "Big Fat Mama" deliver eight digits of delight. The pair of studio albums display a glassy touch with "Li'l Darlin" and "When Lights Are Low" tender mercies. You'll going to LOVE this guy!
We've still got Randy Weston with us on earth, and we can thank God for that. Here, he's on a trio of fantastic sessions with Cecil Payne on the front line all throughout. The rest of the band is with Ahamed Abdul-Malik/b  and either Wilbert Hogan, Willie Jones or Al Dreares on drums, with Ray Copeland sitting in on a few bopping tunes like Monk's "Well, You Needn't". And as long as we're on the topic of Thelonious Sphere, we need to mention right here and now that Weston is really the only pianist who sounds like Monk at times because he was a friend of his, not a  poser like everyone that does this stuff nowadays. Weston's joyful percussive work on "Just a Riff" or "This Can't Be Love" are ivory raptures, and with Payne's chocolaty baritone on material such as "I Can't Get Started" or "Do Nothin' Till You Hear From Me," the sound is a hint of heaven. A live concert at the Bohemia lets everyone stretch out a groove a bit as well. Essential piano playing.
Fresh Sound Records